Some student of Yaba College of Technology (YABATECH) in Lagos are the latest to inspire the global science society with their latest invention.
The students, supervised by their lecturer, Engr. Nosa Uwogbiren, built a solar-powered electrice car that has caused excitement to the nation's minister of science and technology, Ogbonnaya Onu.
Expressive Information reports that after he inspected the car, Onu, a member of the cabinet of President Muhammadu Buhari, was driven in the vehicle at the Eagle Square in Abuja.
The car was displayed at the capital city during an exhibition.
READ ALSO: Coronavirus: ASUU tells FG to use Nigerian scientists against pandemic
Onu, who praised the students, promised to ensure government's support for the tertiary institution so that the latter can make the car more reliable and conducive to drive.
The teenager who said he wants to be an aeronautical engineer and then go into piloting, said he started his technology innovations when he was in senior secondary school 2.
It was gathered that Jibril said he started constructing a car, after which he decided to construct an aeroplane that will fly.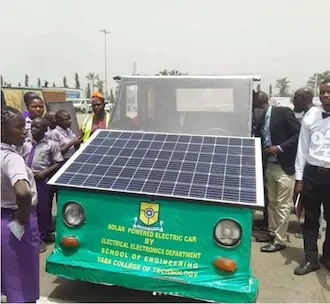 He said: "I started it when my jet club teacher, Malama Aisha asked us to go and innovate something. My friend, Haruna Badamasi started constructing a car, then I said I will construct aeroplane that will fly.
Meanwhile, a 26-year-old Nigerian, Max Chinnah, recently made history by invented smokeless stoves that he patented with his partner, Attigah.
According to Daily Times, the Nigerian inventor, hopes that his piece would help in the saving of lives around the world.
His company called Terraoak is going into producing the smokeless stove at a very large scale, adding that it is a move to ensure a greener environment and reduce the threat of global warming.
Source: legit.ng
Thank you so much for reading this article, we really do appreciate. We hope you loved it, if you did, please share this page with your friends via the share buttons below. Sharing is caring.
Join Over 100,000+ readers to receive latest Educational News: