Information coming in is that students are burnt at the university gate,  Federal University of Agriculture Makurdi (FUAM) this night.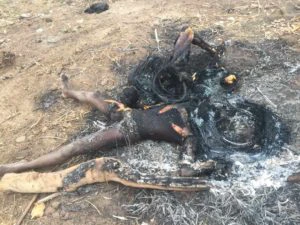 Fresh info has it that the  four (4) boys were going into the university campus on getting to the gate the security men at the Gate insisted that they must be searched while searching them they discovered all of them had locally made pistols from there they raised alarm and the community came and took over the boys from the University security and did jungle justice with them they were four but one ran away while the other three were killed….
At the point of their burning, one guy name was mentioned who live in paradise one of the student rented hostel in the village.
That was why police storm at Paradise to stop the ongoing birthday party there…
let pray for UAM, let pray for peace, lets pray for makurdi, lets pray for Benue State.
KINDLY SHARE THIS ARTICLE TO YOUR SOCIAL MEDIA USING THE SOCIAL MEDIA ICON BELOW OR ABOVE TO SUPPORT ALLSCHOOL.Com.ng AND FOLLOW US ON SOCIAL MEDIA FOR MORE OF THIS..
Source: Www.winnaijatv.com
Thank you so much for reading this article, we really do appreciate. We hope you loved it, if you did, please share this page with your friends via the share buttons below. Sharing is caring.
Join Over 100,000+ readers to receive latest Educational News: