The vice chancellor, Nasarawa State University, Professor Suleiman Bala Muhammed, says the university, among other things, is operating in line with accepted global practices.  Tell us how you run the university.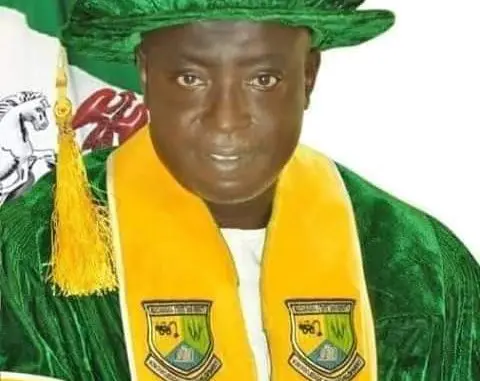 These days, we hold a weekly management meeting to review the state of affairs in the university and committee reports so that we can get ourselves ready in earnest at the end of the pandemic. It is a regular meeting we hold every Thursday.
How is the university coping with COVID-19 pandemic and the postponed 6th-combined convocation?

It was something that was unforeseen. When the pandemic came, it took the whole world by storm. From Wuham in China, it has spread to Europe, Asia, Africa and Latin America. It has become a pandemic.In the midst of a pandemic, you do not organise a convocation and you do not allow gathering of many people. When the pandemic became serious, the university council met and took a decision that the convocation ceremony be postponed indefinitely.
It is not only the convocation ceremony that was postponed indefinitely, the university was also closed down until further notice. This is because of the threat of the pandemic. We have to work very hard to contain it and ensure that more infections or community infections do not spread. That was why we postponed the convocation. It is regrettable and we are very sorry for the inconveniences we have caused our esteemed and cherished guests, our graduants,  honorary awardees and Nigerians in general.As we get over this pandemic, we shall have the ceremony.
It is actually a combined graduation of 2017, 2018 and 2019. It is our hope that at the end of 2020, another set will graduate and by early next year, we shall have another convocation. We are committed to having convocation every year so that our graduates will always seek for employment in the labour markets with their certificates and not statement of results. We are trying as much as possible to go back to the best practice where we shall see convocation for what it is and try as much as possible to reduce the ceremonial aspect which is what actually makes it a lot more expensive.
READ ALSO: NASU makes case for sustainable health sector

Tell us the journey from the beginning until your appointment

I was the former dean, Students' Affairs at University of Abuja before I became the VC, Nasarawa State University, Keffi. Dr Modibo is the current dean Students' Affairs of this university and he is doing a very good job.When he was appointed, we were confronted with lots of challenges. Our NYSC scheme was about to be suspended for not following due process during mobilization. When Dr Modibo came, he cleaned it up. Today, I can assure you that all our students have been mobilised and we do not have challenges in that area.
With dedication and commitment, he was able to conduct Student Union Government (SUG) elections that was adjudged free, fair, democratic and credible. He was also able to ensure that other organisations such as states, tribes, ethnic and religious organisations also conducted their elections based on democratic principles and norms.
He has been able to put the hostels in good shape and renovated both the male and female hostels and made the hostels a lot more convenient for students. We are giving him all the necessary supports. I want to say that NSUK does not have cases of cultism. Even if it exists, it operates underground. We have put machinery in motion using the internal security apparatus as well as the conventional security arrangement to ensure that any cult group or any individual involved when apprehended would face the music. I am sure the students are very much aware of this fact. We are enjoying relative peace and harmony as far as students on campus are concerned.

What informed your decision to run the university based on committee system?

A university is supposed to be run on the basis of committee system where activities are carried out on the basis of committees. That is the convectional way of running the university. The beauty of committee system is that you are putting together some of the best hands you have to look at any particular issue at hand at any given point in time and you will agree with me that two good heads are better than one. When the committees complete their work, it is then presented to the relevant organs of the university whether management, senate or council and then decisions would be taken. Whenever you do that, you will discover that the decisions you have taken are very sound and accurate. You will also realise that individual's biases are minimised because in a committee, you are likely going to have one or two people that will insist that the right thing be done and they will never compromise. It is a global best practice that we call the principle of inclusion by ensuring that people who have relevant competencies are appointed to serve in committees. It gives those staff the sense of belonging as stakeholders in decision making and implementation.
Tell us about academics, research, publication and the university IGR
We are actually challenged by funding and we have made that point very clear to the state government. They have promised to intervene and resolve the problem.
We are still awaiting their intervention. In the meantime, what we are trying to do is to expand the revenue base of the university. One area we have taken seriously is research. I have had causes to constitute six research groups on environment, geology mining, criminology, economy and the other two. Our thinking is that they should be able to do research and even bring out innovations that we can get patent for them and companies can buy and we would generate income from that.
I will give some examples, if you take up some environmental issues, you will realise that NSUK has proximity to Abuja and Nasarawa. Being corridor from Keffi to Abuja, there are huge environmental issues concerning waste management. I believe we should be able to go into that area, devise means and technics and even invention on waste management or recycling and then get companies to come and partner with us so that we can begin the implementation. I have constituted a research group and asked them to start with the university and let us see how we can clean up the university and ensure proper waste management, ensure a recycling system and create appropriate technology that we can import. 
The second area is in the area of geology and mining. Nasarawa is the home of solid minerals and we believe that there are lots of minerals deposits in the state; therefore, we are charging our research group on geology and mining to ensure that they come up with the geological map of the state, do an inventory of all the mineral resources and generate knowledge that can really be transformed into technology. We can then have patent with companies, sell and generate knowledge. This will lead to huge revenue for the university.
The other area is consultancy services.
We inherited a consultancy service that was really moribund. What they were good at doing was pure water and transportation and they were unable to capture Keffi market not to talk of the state because the work of NSUK consultancy was tied to bureaucracy. Under this new dispensation, we believe that as a business outfit, NSUK Consultancy Service should stand as a limited liability company where they are able to recruit their own staff, pay them the amount of money they think is attractive enough and generate revenue to the university on annual basis.

The third area we are working on is blocking leakages because we realised that there are leakages in the payment of school fees and other charges. What we are trying to do is to block all those so that we can collect all the revenue that are really due to us and utilise them by putting transparency and accountability in the management of the resources itself and spending the money judiciously.We are however grateful to the state government who have handed over to us the Fertilizer Blending Plant in the Faculty of Agriculture which we are commercialising to produce fertilizers for sell. Agriculture is one of the areas where we are exploring to go into farming, animal husbandry and fishing to generate revenue and income. The combination of all these efforts will ensure that sooner than later, we will become financially sustainable and  independent of the state.
Source: Blueprint
Thank you so much for reading this article, we really do appreciate. We hope you loved it, if you did, please share this page with your friends via the share buttons below. Sharing is caring.
Join Over 100,000+ readers to receive latest Educational News: