Ekowem Tobechukwu graduated with a first-class degree from the Department of Civil Engineering, Enugu State University of Science and Technology, in the 2018/2019 academic session with a Cumulative Grade Point Average of 4.54. He tells how he achieved it and his plans for the future. He says he played with friends and study in the night, hardworking and praying play a big role in his achievement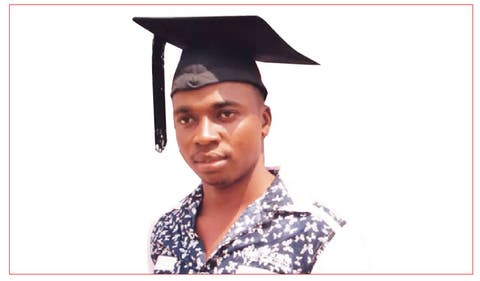 What was the first thing that came to your mind when you heard that you were the best graduating student in the Department of Civil Engineering in the last academic session?
I was very excited. I worked towards it. Even for the award that was given to me, the credit should not go to me alone. Some people guided me. 'The boy is good' tutored me in my first and second years in school. In my third year, I met another guy; they call him 'Presido'. He is an academic guru and he taught me a lot. He graduated when I started my third year but he was visiting us. When he went for his National Youth Service Corps programme, he handed us over to another great guy and he still did a wonderful work in nurturing me and making sure that I did very well. He handed me over to someone called Justus, who is participating in the one-year mandatory national service now. He is a great guy.
Why did they take special interest in you? Are you all from the same hometown?
No, none of them is from my place. It was probably because they saw the zeal to be studious in me. They came to me and sometimes, they directed students to me for guidance so I taught students then. Also, once I read something, I wouldn't forget it; so I used to read and I stayed ahead of my fellow students. After reading, I would organise a tutorial for them (fellow students) to guide them and they were very happy with me. Even some of my lecturers were always excited whenever they saw me teaching my fellow students. They encouraged me to keep it up, especially Dr C. C. Ike – he is a very great teacher in our department. His text book is so voluminous that if you are not a very good student, you cannot understand some things there. But the grace of God helped me.
What made you to study civil engineering and not medicine or any other course?
For the first Unified Tertiary Matriculation Examination that I wrote, I applied for mechanical engineering but I was unable to gain admission then. For another one, I applied to study geology and mining at ESUT but that also failed. For the first UTME I took, I scored 250 but I was unable to perform well in the Post-UTME at the University of Nigeria, Nsukka. In my second UTME, I scored 193 and in the Post-UTME, I was surprised that they gave me 53 over 400.
My father had to go and see the former Head of Department, Geology and Mining. They gave me 53 and I was ashamed of myself. I couldn't believe it when I saw the result; even my people said it couldn't have been my result. Afterward, I applied for civil engineering. And I have a mentor who is an engineer, Mr Okobo, and is from my place. So I chose civil engineering. My elder brother studied civil engineering in ESUT and he wanted to discourage me from also studying civil engineering but I insisted on studying civil engineering. So I took my third UTME and scored 229. In the Post-UTME, I scored 227 and was on the shortlist for the first batch of candidates for admission in September 2014.
How were you able to graduate with a first–class degree?
I started from my year one. From my first year in school, I took my studies seriously even though I am a friendly person. In my first semester result, I had about 4.4 GPA without giving anybody my one naira. In the second semester, everybody moved close to me so that I could teach them how I did it. In my second semester, I also did well. Subsequently, the same thing happened till I graduated from ESUT. In my fourth year, I had 5.00GPA. In the first semester of my final year in school, I had 4.57GPA, and in the second semester, I had 4.83GPA.
READ ALSO: Why I dumped law for entertainment — Cee-C
What was your routine like?
While I was in school, I read many textbooks. I never relied on one textbook. I read online and googled for some textbooks online. And for some things I didn't understand, I consulted people who could help, especially old students. I argued with people a lot and also asked lots of questions from senior colleagues. They would tell me what to do and I would apply their suggestions and do well. I equally advised people whenever they brought their challenges to me.
I read almost every day but didn't read in the school. I used to read from midnight till 6am before I would then prepare for school. I might be chatting with you and be reading at the same time but you wouldn't know. Any question you asked me on Facebook or WhatsApp, I could respond to you. Most of my colleagues wondered how I was able to do it; they would ask: 'Are you sure he is not a wizard?' I always responded that I was not a wizard. Like I said, I didn't read during the day because of distractions. I preferred to read when the weather was cool.
What was your social life like?
I am a social person. I went for outings and watched football matches even though I don't know how play. I enjoy having discussions with friends. I also hang out with my friends.
And in the night while they were sleeping, you would be studying…
(Laughs) Yes! They even called me a deceiver. They would say I was deceiving them. They used to say that I would have fun and in the morning, I would be the first person to be in school and that all the things that were taught the previous day, I would have revised them. So, I didn't disappoint my lecturers.
Are you in a relationship?
Yes, but not too serious for now.
Did you at any time hold any leadership role in your department or school?
No. But I was a member of the committee for departmental election in 2017/18.
When did it occur to you that you would be graduating with a first-class degree?
I had some little challenges in my third year. I almost got discouraged in my third year because of my first semester results. I had 4.11 and wanted to give up, but I followed an advice that I should never give up. In the second semester examinations, I did well and my fourth year results were able to boost my GPA.
Did you have any role model while in school?
Yes, I had a role model. My role model was Mr Okobo. He is a good man; he is a brilliant man. He is my uncle and I visited him in his office so he could guide me.
What do you think about entrepreneurship?
Entrepreneurship is a nice thing; even in our third year, we did a course on entrepreneurship. We even produced detergents, cakes and some other things. I still want to acquire one skill by God's grace.
How did your parents influence your academic performance?
My father is a retired teacher. He is a disciplinarian and he always advised me to calm down and read. He would say though he didn't have much, he would support me to attain my destiny with the little he had. When we were in primary school, if he was reading, you must read with him even if you didn't know what was being read. You would sit and be looking at your book. Sometimes, after playing and returning home at night, he would not disturb you. But by 10pm when you were in bed, he would wake you up and flog you to the extent that you would not try it again. So, he nurtured us well.
What are your plans for the future?
I plan to be a better position. I know that God has done so much for me, especially with the award of first-class honour in civil engineering from my department which nobody had achieved in many years. I'm praying for the grace of God to achieve my dream. I will be happy if I can do my master's and PhD at my young age but I don't have the money to do that yet. I prefer to do those things now when I have the zeal to read because as time goes on, one won't like to be reading again. Once you get married, your attention will be divided. It can be achieved in six years if the money is there to fund the programmes. I pray for sponsors as I know that my family cannot afford it now because I have siblings that need to go to university. I am 26 years old now and will like to have finished my PhD by the time I am 32.
Has your emergence as the best graduating student changed your initial plan in life?
No. It hasn't altered anything. My plan was that after concluding my NYSC service, I would go back to class but I can't do that now. I have siblings that my parents need to take care of. Since I got my award, I have been receiving calls. My prayer is that the calls I have been getting to have meaningful impacts.
Do you want to practise your profession?
Why not? I want to practise my profession but I am going to combine it with teaching. My dream has always been to be a lecturer, but I will still practise.
What advice do you have for students who are also aspiring to graduate with first-class degrees?
My advice for students is to put God first in whatever they do. Secondly, they should study hard. Sometimes they describe schools as scams but I don't believe that, they should study hard and God knows the best. I know that the God that did it for me will also do it for them.
Source: Punch
Thank you so much for reading this article, we really do appreciate. We hope you loved it, if you did, please share this page with your friends via the share buttons below. Sharing is caring.
Join Over 100,000+ readers to receive latest Educational News: