Akwa Ibom State University of Technology, AKSU Post UTME Form for 2021/2022 Session is out. Cut-off mark is 160. Deadline to apply is 19th October 2021. Form cost N2,000. The AKSU Direct Entry Form is also out.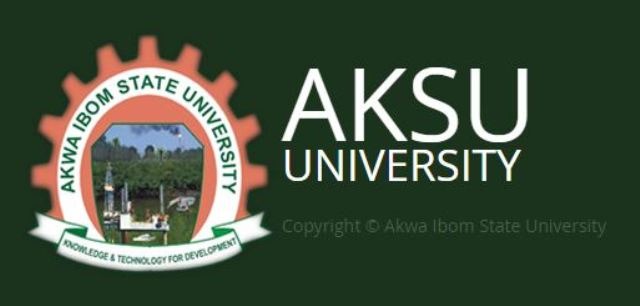 The Akwa Ibom State University (AKSU) Post UTME Form for the 2021/2022 session is Out. Registration commences Monday, 25th October 2021 to Friday, 19th November 2021. The Direct Entry (DE) form is also out.
In this page, we will show you all you need to know about registration.
Candidates Eligible to Apply.
Only Candidates who scored 160 and above in the 2021 UTME by the Joint Admissions and Matriculation Board (JAMB) and Direct Entry (DE) candidates who made the Akwa Ibom State University (AKSU) their First Choice Institution are eligible for screening.
In addition, each candidate must possess credit passes in at least five (5) subjects including English Language at not more than two (2) sittings.
Direct Entry candidates must be holders of A' Level/ND/NCE/HND/First Degree in relevant discipline and subjects.
UPLOADING OF O'LEVEL RESULTS
All Candidates are advised to upload their O'level results online at JAMB Portal in a COMPUTER-BASED TEST (CBT) CENTRE
All uploaded documents must be clear and legible. Blurred or unclear documents will lead to automatic disqualification.
Any candidate who fails to upload his/her results and other relevant academic qualification (original) will NOT be considered for admission by the University.
REQUIREMENTS FOR AKSU SCREENING EXERCISE:
2021 UTME Original Result slip showing candidate's photograph in colour.
2021 JAMB DE printout (Direct Entry applicants only).
Diploma, NCE or A-level result or certificate (Direct Entry applicants only)
Birth Certificate
Certificate of Origin.
Certificate of Medical Fitness from approved Government Hospital.
WARNING: Any candidate who fails to upload his/her results will NOT be considered for admission by the University.
Please Take Note of the Following:
Candidates who do not register for the Post-UTME screening exercise would not be considered for admission.
Applicants who did NOT choose AKSU or change to AKSU as their University of First (1st) Choice in the 2021 UTME or Direct Entry are NOT eligible for this exercise.
On filling the application form, each applicant should endeavour to use his/her own phone number and valid e-mail address in order to receive timely alerts, messages and directives. Do not use those of a cyber café operator or any other third party.
Misrepresentation/falsification of documents is a serious offence.
Candidates are, therefore, advised to submit genuine documents only.
No candidate with awaiting result will be offered admission in AKSU. Kindly upload your O'level results in AKSU and JAMB portals.
Early commencement of registration is advised to avoid congestion close to deadline.
AKSU portal for registration of candidates for the screening exercise will be closed on Friday, 19th November, 2021.
Candidates are strongly advised to adhere strictly to the guidelines stipulated above for successful completion of the online submissions.
How to Apply for AKSU Post UTME and Direct Entry Screening Exercise.
Candidates are required to register online for the screening exercise following the procedure below:
Visit: https://aksu.edu.ng/app/
Click 'Start Now'
Click 'Enroll'.
Enter your Jamb Registration Number and click Next.
Proceed to make payment of NGN 2000.00 registration fee (excluding bank charges).
Note: Payment can be made via Debit card or Bank Deposit Nationwide. If payment is made at the bank, repeat steps 1-3 then continue with registration.
Click to upload your passport sized photograph (passport must be between 20kB and 50kB) and click Next.
Enter your O-level result details (School Name, Exams Year, Exam Type, Exam batch (Internal/External) and grades for each subject)
Note: Awaiting results candidates are to select the awaiting result option from the exam type drop down and leave the o-level details fields empty.
After Entering the O-level result details click Next.
Upload the Scanned copies of your documents (Certificate of Origin, Original Jamb Result, O-level Result, Certificate of medical fitness,2021 JAMB DE printout(for DE only) ) in jpg format with a minimum size of 120kB and maximum of 150kB.
Preview the details entered to ensure it is correct.
After confirmation, click the 'Finish' button to generate the registration confirmation slip.
For enquiries, please send an e-mail: to [email protected] and/or [email protected]aksu.edu.ng. Or Ask us using the comment box below.
For your reading pleasure, please check out the following recommended links:
ALLSCHOOL TEAM
Thank you so much for reading this article, we really do appreciate. We hope you loved it, if you did, please share this page with your friends via the share buttons below. Sharing is caring.
Join Over 200,000 Readers to Receive Our Latest Edu News: